BabyBond Swing Vs. Graco Swing: Which One Will You Prefer?
Baby swings are a wonderful way to soothe your child to sleep in the early stages of their life. The gentle movement reminds them of the womb and allows parents to be hands-free while their child is resting. The motion is even shown to stimulate their vestibular system in early development. When you're looking for a baby swing, it's important to assess the features and functions that are right for you.
While BabyBond is a new brand, we make products from our hearts to customers' homes in order to support them. The well-being of parents and their babies is the core of our business. We strive to educate parents and provide them with all the essentials to bond with their children during their most pivotal years. We want you to make the most informed decision about your baby swing.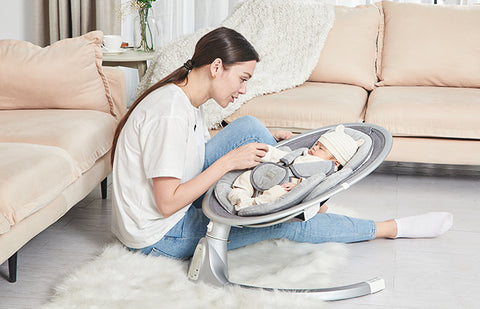 What is the Function of a Baby Swing?
According to Dr. Harvey Karp of Happiest Baby on the Block, when newborns get upset gentle rocking is a natural way to calm them down. It stimulates the environment they were in for nine months and helps them transition into the world with ease. Many parents know the struggle of trying to manage other tasks while having a newborn. It can be tiresome to hold, rock, and swing your baby yourself. A baby swing is a safe way to secure your baby, and let them experience the many benefits. Parents are able to have peace of mind, watch their newborn, and carry on with other household responsibilities. A baby swing isn't meant to supplement your child's sleeping area, it's important to also consider getting a bassinet you can transfer them to.
A baby swing is an area for your child to relax and wind down. It naturally helps them feel secure and comforted which is every parent's top priority. If your child has a hard time falling asleep, a baby swing can be multi-functional. Some swings have music and lullabies that are complementary to the soothing rocking movements. Other swings are easier to transport, and allow you the freedom to take your swing with you anywhere. 
We're going to break down the features of the BabyBond Swing vs. Graco Swing, so you can understand the functions and benefits we prioritize here at BabyBond. Our goal is to support parents while ensuring the best experience for your little one to feel safe, nurtured, and secure.
 What are the features of the Graco Baby Swing?
1.Side-to-side swaying motion
2.6 Swing speeds
3.Plush seat and head support
4.Small frame design
5.2-speed vibration for additional comfort
What are the features of the BabyBond Swing?
1.Smooth Swing & 5 Speeds: The swing will relax your little one with a smooth side-to-side motion and five custom speed preferences.
2.10 Lullaby Songs and Bluetooth song control: There are ten lullaby songs you can play while your baby rocks. You can also use the Bluetooth feature to sync up your baby's favorite songs while they rest.  
3.Timer Function: There are three timing functions set at eight, fifteen, and thirty minutes. The rocker will automatically shut off making it easy to transfer your little one if they fall asleep.
4.IMD Touch Display: The swing is equipped with a modern touch screen design including power on/off,  swing speed, timer function, music change, volume adjustment, and more.
5.1-Step Installation: The BabyBond swing takes one step to complete installation. This makes it easy for parents to take their rocker on the go, or enjoy time with their little one outdoors.
6.Swing Mat: BabyBond baby swing has a swing mat and added padding to endure your baby is tucked away and cozy.
Compared with Graco we have the following merits:
1.More lightweight and easier to install, can easily be used outdoors.
2.Bluetooth music control feature.
3.Equipment with swing mat, makes baby more comfortable. and easy to clean.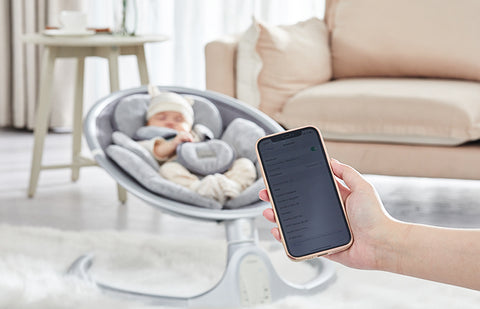 If you're still feeling undecided about your baby swing, make sure to reflect on what will be the best benefit for your lifestyle. Baby swings can be a great asset to your life. They provide copious benefits for parents and babies alike. Here at BabyBond, we're committed to bringing you everything you need to nurture your child with ease. When you have reliable newborn essentials that you can trust, you're able to spend more time enjoying your new baby. Having a child is one of the most sacred gifts in life, and we hope we can be a support system for your family.
The BabyBond baby swing is designed with a baby's comfort and a parent's convenience in mind. It's easy to travel with and provides customizable settings that parents can choose from. You can create a calm experience for your little one with the combination of gentle rocking and soothing lullabies. Our baby swing will help you relax as a parent, allowing you to be hands-free to do other activities. Meanwhile, your sweet baby will be winding down in their padded baby swing. We hope BabyBond products are able to be a valuable part of your life and increase the bonding time you get to share with your newborn.
4 comments
So wish I would have bought one when my son was born 😍😍
I always wanted one when my babes were little, this is a great!
I love this swing! I think my daughter will like it
very useful product!
Suitable for families with children😄
Josede Baddoe
March 29, 2022
Leave a comment